Hernia Repair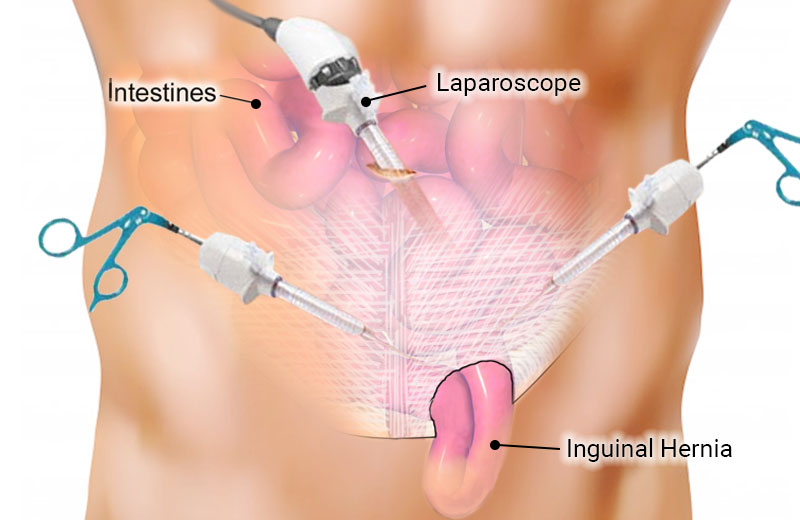 A hernia is an out pouching of tissue that occurs when the inner layers of abdominal muscles become weakened. This results in a visible small sac that may contain part of the intestine or other abdominal tissue. Hernias occur most commonly in the groin (inguinal hernia), the upper thigh (femoral hernia), the navel (umbilical hernia), at the midline (ventral hernia), and at the incision site of a previous surgery (incisional hernia).
Hernias can be a major cause of discomfort and pain and surgery is often the best cause of action when your life is impacted by this condition.
Hernia repair surgery is one of the two main areas of our specialization. The surgical procedures used by our practice are based on the latest research and developments of hernia repair. As a result, surgery is now much less invasive, recovery time is significantly shorter and reoccurrence of a hernia is less likely.
Traditionally the focus of hernia surgery was only repair of the affected area. Recent research proved that restoration of the function of the entire abdominal wall is required for achieving the best outcomes for patients and improving quality of life. The techniques applied by Dr Mastakov aim to preserve the abdominal anatomy including nerves and blood vessels and realign muscles in accordance with their original connections. Reconstruction of the abdominal wall, where applicable, during the surgery includes restoration of the midline essential for supporting abdominal muscles and restoring the full functionality.
One approach will not fit all the defects, each surgery is optimally tailored to a patient's anatomy and type or types of hernia. Years of experience in treating patients with different types of hernia allows Dr Mastakov to use various reconstructive techniques and tailored approach to each individual case. Details of the proposed surgery are explained to the patient prior to the procedure. Follow up care is also provided by the clinic to ensure each patient's speedy recovery.
Meshes for Hernia Repair
As a result of media storms and less than informed opinion, Hernia repair mesh has come under the microscope in recent years for all the wrong reasons. However, Hernia repair using mesh, for the majority of cases, is the Gold Standard of treatment options.
At Dr Mastakov Surgery, all hernia repair surgeries are done with the use of recently developed synthetic biodegradable and hybrid synthetic meshes. The mesh type, size and parameters are individually chosen for each patient. The use of appropriate mesh provides a durable abdominal closure, reinforces the repair and prevents recurrence. Over the recent years meshes evolved to allow quick incorporation, native tissue ingrowth, ability to tolerate infection and avoid foreign body drawbacks.
The mesh is usually attached to the abdominal wall with small absorbable staples which will help keep the mesh flat and stable while the tissue heals and integrates with the mesh. However, we also already use in our clinic the most recent 4 Dimensional biodegradable mesh which is fixation free and leave only 25% of foreign body material after 12 months.
The new innovative fully biodegradable Phasix Mesh is an important advance in the work of hernia repair. We are Phasix Mesh specialists with patients coming from our home State Queensland and interstate to have their hernia repair surgery done at our clinic.
The following are examples of meshes that Dr Mastakov uses:
New Fully Resorbable Phasix and PhasixST meshes for hernia repair are now officially available in Australia
Phasix™ Mesh – Fully Resorbable Scaffold for Hernia Repair Designed to enable functional tissue remodeling for a strong repair
Phasix™ ST Mesh – Fully Resorbable Scaffold Featuring Proven Sepra ® Technology. Designed to enable functional tissue remodeling for a strong repair
For Laparoscopic hernia repair surgery:
Cousin 4D MESH – is fixation free and partially resorbable implant, designed for the treatment of inguinal hernias and easy to place laparoscopically.
(PDF document for more information)
Bard® 3DMax™ Mesh was developed based on careful and precise anatomical research of the inguinal canal. The three-dimensional, anatomically curved shape, sealed edge and medial orientation marker allow for easier positioning than a conventional flat mesh and also enhance the speed and simplicity of placement.
https://www.crbard.com/davol/en-US/products/3DMax-Mesh
Ventralight™ ST Mesh is an uncoated lightweight monofilament polypropylene mesh on the anterior (forward facing) side with an absorbable hydrogel barrier based on Sepra® Technology on the posterior (rear facing) side for laparoscopic ventral hernia repair.
https://www.crbard.com/davol/en-US/products/Ventralight-ST-Mesh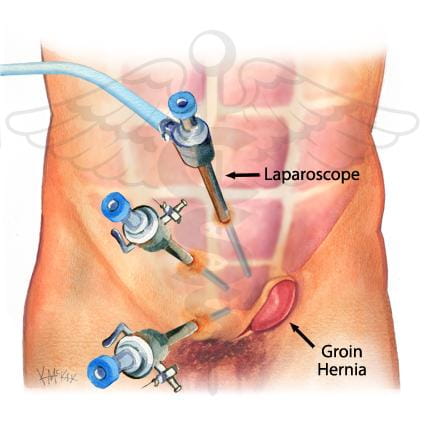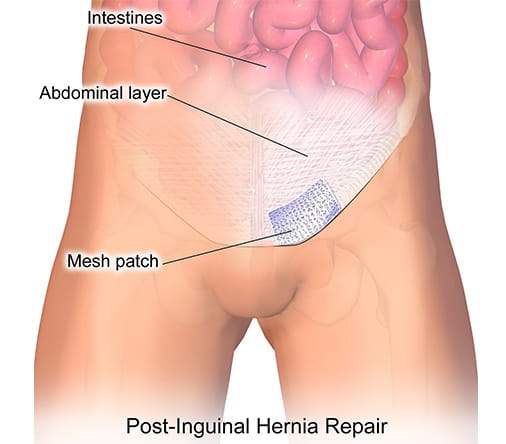 For Open hernia repair surgery:
Cousin 4D DOME MESH– Dome is 90% resorbable and flat mesh is 75% resorbable. It is merging with anatomy for better outcome and quick & easy to place. This mesh is designed for open inguinal hernias only.
(PDF document for more information)
The Ventrio™ ST Hernia Patch is an uncoated monofilament polypropylene mesh with SorbaFlex™ Memory Technology and an absorbable barrier based on Sepra® Technology.
(PDF document for more information)
Ventralex ST Hernia Patch is a clinically proven umbilical hernia repair solution with SorbaFlex™ Memory Technology and an absorbable barrier featuring Sepra® Technology.
The Benefits of Phasix Mesh for Hernia repair surgery
With a long history of Surgical experience, we have seen many technologies come and go, some last and some do not, or they are further improved upon. It is rare that we find a product that is truly different or unique and offers both a clinical and patient benefit that has not been available prior.
The development of Phasix Mesh has brought a lot of benefits to those undergoinghernia repair. The mesh is fully resorbable and allows for rapid tissue incorporation. It provides the repair strength of a synthetic mesh and the remodelling characteristics of a biological graft.
As the Phasix Mesh is absorbed into the body, it is replaced with functional tissue which results in strong repair at one year. Phasix Mesh is a monofilament mesh, in which these designs have been proven to be more biocompatible and less susceptible to bacteria growth.
The Phasix mesh is highly recognised by the body. This is because Phasix™ (P4HB), which in the Monomer form (4HB) is a naturally occurring human metabolite found in the brain, heart, liver, kidney, and muscle.
Australia's Phasix Mesh Specialist
We are one of the most experienced clinics using Phasix Mesh in Australia, offering phone call appointments and in-person appointments to our patients whether they live in Queensland, interstate or overseas.
We are committed to offering the best care possible to our patients, and to that requirement we ensure we have the best products to support the procedures which are performed in our clinic.
Throughout our controlled usage of Phasix/Phasix ST we have found this novel Synthetic Absorbable mesh to be beneficial to our patient based on the following:
No foreign material
Minimal postoperative pain
Minimal to none use of opioids
Earlier return to normal activities
Can be used in contaminated wound
Reduced risk of post-operative complications (e.g. swelling, seromas, scrotal bruising)
If you'd like to discuss your options for hernia repair surgery in Brisbane or Hervey Bay, our team would love to welcome you to our clinics.
To make an appointment with Dr Mastakov, call us today.